Well the Fall sharks are here! The humps and reef have both been producing some hard fighting sharks. All of our shark fishing in the Florida Keys is catch and release, and we typically use circle hooks to ensure the safest hook placement in the corner of the mouth. On the 2nd we went offshore to start the day and caught a bunch of tuna. The tuna would make good table fare as well as shark bait. After getting what we wanted we put out a live skipjack tuna on the 80 wide reel. It didn't take too long till we had a bite. After a quick drip back we set the drag. Vinnie worked the rod and after a 2o minute fight had an 8′ long, 250 – 300 lb dusky shark along side the boat.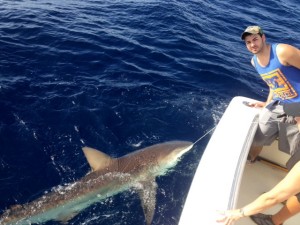 We took a few pictures and then sent the shark back on his way. It was the biggest fish Vinnie had ever caught! We then came back to the reef and were having plenty of action with small fish and then decided to try for some bull sharks. We had 3 bites in one hour of fishing, but unfortunately they all got away. The next day I headed back out to the hump and saw a couple of hammerheads swimming down the waves. We rigged up a butterflied skipjack tuna and sent the bait out. After a few minutes a shark had found it, and after a 25 minute battle we had a 7′ hammerhead shark next to the boat.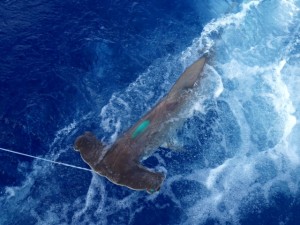 We took a few pics and then released him to fight another day. The hammerheads are definitely one of the strongest fighting sharks around, and also one of my favorite since their head shape. We should have some more sharks around all this month, so if you want to catch something big in Islamorada, Send me an email and fishing for sharks might be the right choice!
Capt. Nick Stanczyk